An engineering firm which plans to base itself in Soldotna claims to have solved a mystery from the ancient world,
determining that hollow devices dating back to the Roman Empire are measuring instruments.
According to John Ladd, who describes himself as "CEO, Futurist & Inventor" of Roman Systems Engineering, the Romans would mount small objects inside metal dodecahedrons — 12-sided geometric objects made up of pentagon-shaped sides, each with a hole through it permitting access to the hollow center.
Placing the dodecahedrons in bowls then adding specific amounts of water would yield exact measurements of water displaced by the objects within, allowing small parts to be tested for consistent shaping before use.
Read More at DODECAHEDRON DEVICES: Soldotna-Based Firm Claims Solution to Roman Mystery – ktuu.com.
Story by Chris Klint – KTTU.com
A copy of an ancient religious book, created in St Albans almost a thousand
years ago, has been given to the city's cathedral.
The Bishop of Hildesheim in Germany presented the St Albans Psalter, a book containing psalms used in daily worship, at a ceremony on Tuesday.
The original St Albans Psalter was made in the abbey between 1123 and 1143.
It is believed to have been a gift for Christina of Markyate from Geoffrey of Gorham, Abbot of St Albans.
The book is regarded as a masterpiece of English Romanesque art with 46 pages of illustrations and the earliest known image of Saint Alban's martyrdom.
Read More at BBC News – Psalter returns to St Albans Cathedral
An ancient clay vessel reconstructed from pieces discovered at a Canadian museum is riddled with tiny holes, leaving archaeologists baffled over what it was used for.
The jar, just 16 inches (40 centimeters) tall and dating back about 1,800 years, was found shattered into an unrecognizable 180 pieces in a storage room at the Museum of Ontario Archaeology. But even after it was restored, the scientists were faced with a mystery. So far no one has been able to identify another artifact like it from the Roman world.
Read More at Ancient Roman Jar Riddled with Mystery | Roman Britain Artifacts & Museum of Ontario Archaeology | Archaeological Digs | LiveScience.
Story by Owen Jarus – LiveScience; Photo by Katie Urban – Museum of Ontario Archaeology
A sword used by a Roman soldier during the brutal pacification of the Jews and the destruction of the Temple at Jerusalem nearly 2,000 years ago, has emerged from an ancient drainage tunnel beneath the city, Israeli authorities announced this week.
Excavated since 2007, the tunnel, which was used by Jewish rebels as a hiding place from the Romans, has also yielded a stone object adorned with a rare engraving of a menorah, the seven-branched temple candelabra that was the symbol of ancient Judaism.
The 60-centimetre (23.6-inches) long weapon, still in its leather scabbard, is the third Roman sword found in Jerusalem.
Read More at Roman-Era Sword Uncovered in Ancient Ditch : Discovery News.
Story by Rossella Lorenzi – Discovery; Photo by Clara Amit – Israel Antiques Authority
A marble statue of Hercules from the second century CE was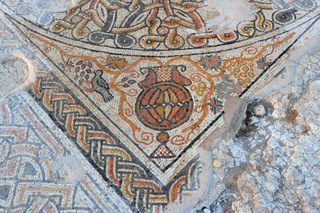 uncovered in excavations the Israel Antiquities Authority is conducting at Horvat Tarbenet, within the framework of the Jezreel Valley Railway project, directed by the Israel National Roads Company. According to Dr. Walid Atrash of the Israel Antiquities Authority, "This is a rare discovery. The statue, which probably stood in a niche, was part of the decoration of a bathhouse pool that was exposed during the course of the excavations. It is c. 0.5 m tall, is made of smoothed white marble and is of exceptional artistic quality. Hercules is depicted in three dimension, as a naked figure standing on a base. His bulging muscles stand out prominently, he is leaning on a club to his left, on the upper part of which hangs the skin of the Nemean lion, which according to Greek mythology Hercules slew as the first of his twelve labors".
Read More at A Rare Statue of Hercules was Found at Horvat Tarbenet in the Jezreel Valley   .
Photo courtesy of Israel Antiques Authority